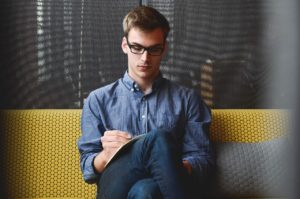 A blazer and tie are fine for a special occasion, but on a Tuesday morning at the office? At Red Dog Media, we reject notions of formal dress and have a decade of successful operation to show that such formalities add nothing to employee performance. This is the approach that Red Dog Media co-founders Michael and Bryce Landier have fully embraced and realized the benefits of.  That's because this internet marketing company that also works on search engine marketing isn't like your typical employer. Rather, the Nevada-based operation founded in 2007 has achieved millions of unique monthly views of its websites by making sure that it was a great place for top talent to work. The approach, as unconventional as it may seem to some, has certainly paid off. On top of competitive salaries, un-metered vacation time and flexible hours, the company made sure that the dress code would match the mood at Red Dog Media: progressive.
The dress code-free ideology at Red Dog Media is rooted in the company's desire to offer a workplace that's fresh, welcoming and a space where ideas can be freely bounced around. For starters, employees of this tech company will appreciate the top-of-the-line hardware and software that they'll have access to. This is made possible by quiet-running PCs and 30-inch monitors with wireless headphones, motorized sit/stand desks and high-end task chairs. Best of all, these accommodations are housed in a bright an open office space that is anything but a "cubical farm." What does this all add up to? Here are snippets of an employee testimonial that show the perks of being a valued Red Dog Media employee: "I know what it's like to work in every type of environment … I've worked for a startup, I've worked for two of the top 10 most profitable tech companies in the world, and I've worked remotely. Nothing compares to the impact I've been able to make and recognition I've gotten at Red Dog Media."
Now a decade into its operation as a premier private company offering relevant and user-friendly web experiences,  Red Dog Media is still driving toward employee satisfaction. That's one reason why we felt it necessary to toss out the neck tie and say that it's okay to wear sneakers to work. As with any job, there are goals to be met and expectations from above. However, we've learned over the years that a relaxed and comfortable workforce is,  if you'll forgive the pun, better "suited" to hit those benchmarks.